Back
Jack Miller
Team

Pramac Ducati

Nation

Australia

Date of birth

18/01/1995

Place of birth

Townsville, Australia
Jack Miller has matured enormously in recent years, turning his talent into consistent points in motorcycle racing's premier class.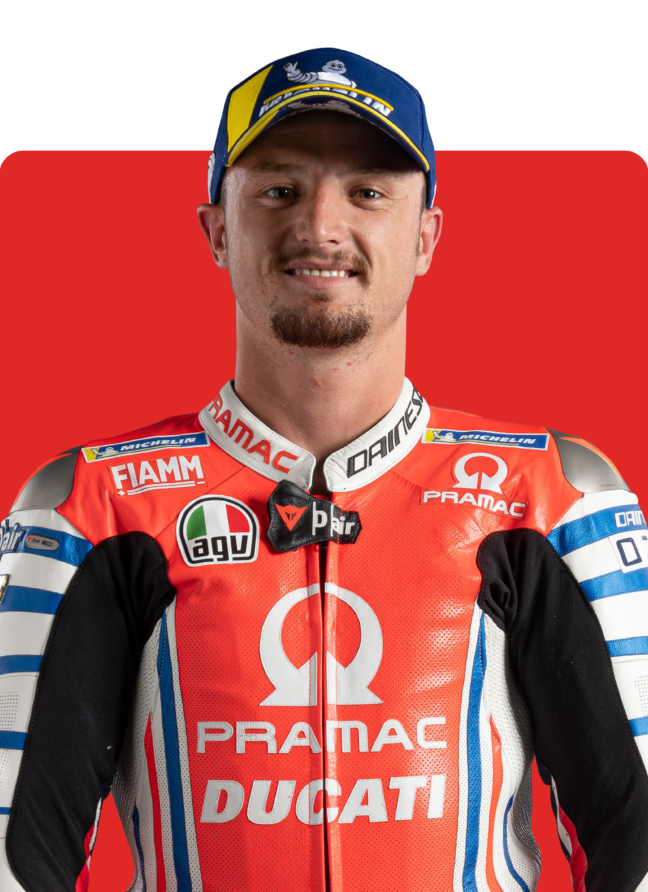 A graduate of Australia's Motorcycle Road Race Development Association, the straight-talking Aussie moved to Europe in 2011 to compete in the 125cc category of Germany's competitive domestic championship.

At 16 Miller won the title which earned him a berth in the 2012 Moto3™ World Championship, where he produced some impressive performances on under-powered machinery.
From 23rd overall in his debut season to seventh overall the following year, Miller was picked up by the successful Ajo Motorsport squad for 2014, and won three of the first five races, as well as scoring six consecutive front-row starts.
He narrowly missed out on the crown on the last lap of the season to Spanish rival Alex Marquez, before making the unprecedented switch from Moto3™ directly to MotoGP™ for the 2015 season.
His maiden season was marred by injury and the big-time MotoGP™ distractions, but Miller refocused for the 2016 season and it paid off with his first and – so far – only Grand Prix win at the Dutch TT.
Miller signed for the Pramac Ducati squad for 2018, where his size and riding style instantly gelled with the notoriously difficult-handling Ducati. He grabbed his first pole position in just his second outing, and with 2019 factory machinery under him for the 2019 season, he showed enough promise to earn a factory Ducati seat in 2021.